"Without the Institute, our boys would certainly be on the streets by now and headed for a life in and out of juvenile detention and later, prison."
– Gary, Client/Parent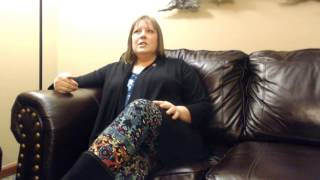 Parent talk about RAD:
Parent talk about RAD:

Angie Rylands talks about securing funding for effective treatment for reactive attachment disorder.
Family funding options
Inpatient program fees
Outpatient services fees
Adult intensive treatment program fees
Additional therapy/Special therapy fees
Family Treatment Funding Options
We understand that quality treatment for reactive attachment disorder is often under-funded. Here are funding ideas from other families who have placed their children in our program.
1. Post-adoption subsidy programs exist in every state for adopted children. Each state administers the program but utilizes federal funds for the adoption subsidies:
Some states provide adoptive families wonderful post-adoption support while other families have to overcome hurdles to secure funding in their states.
2. Some parents have insurance that cover our treatments. When insurance companies deny payment, parents have contested in the past.

Most insurance companies will pay for part of the clinical services we provide (i.e. psychiatric services and therapy).
Most of our treatment is provided by professional treatment families and our clients live with them for an extended period of time. Unfortunately, treatment family fees typically do not fit within insurance companies narrow definition of "residential treatment". Our costs are actually much lower than residential treatment facilities, however. Furthermore, residential treatment facilities are not proven effective with reactive attachment disorder.
3. Churches and other philanthropist organizations have helped individual families in the past.
4. Some families have taken out loans to cover their children's treatment costs.
TOP OF PAGE
Family Treatment Program Fees:
Application/assessment fee (applied toward treatment if family is accepted into program): $250*
Initial psychiatric evaluation and QEEG for neurofeedback protocol: $1,000
Our treatment program includes parent training, a team of pyschotherapists, therapeutic treatment foster parents, medication management, neurofeedback (30-40 sessions), intensive family therapy prior to discharge, and case management: $210/per day (average stay for most children is between six and nine months)
Outpatient Service Fees:
Therapeutic respite care: Short-term therapeutic foster care for previous clients or outpatient clients of one of the Institute therapists: $120/day
Parent training by a treatment parent: $75/hr.
Psychiatric evaluations: A full psychiatric evaluation to assist with differential diagnoses and medication: $700
Neurofeedback: $125/session plus QEEG assessment for $600
Outpatient therapy: Attachment therapist provide therapy on an outpatient basis: $130/hr.
Therapeutic respite: $150/day
Neurofeedback (35 sessions), intensive family therapy prior to discharge, and case management): $3,500
Adult Intensive Treatment Program:
 Application fee (fee applied toward basic fee below if client is accepted into adult treatment program): $250*
 Basic fee for six-day treatment process: $5,610
Fees include the following services:
Psychiatric Evaluation (an hour and a half evaluation and oversight of treatment), intensive psychotherapy
(18 hours with two clinicians present), supervision of hometown therapist, after-care Treatment Planning & Coordination
TOP OF PAGE
Additional Therapy/Special Therapy Fees:
Post-intensive consultation via phone or in-person $125.00/hour
*Application Fee payment is expected at the time of submittal of an application. A $2,000 Deposit is required in order to reserve treatment dates. 
Please contact IACD Executive Director Forrest Lien at 303-674-1910 X11 to schedule an intake or access more information. Forrest can also be reached via email at forrest@instituteforattachment.org
TOP OF PAGE
SHARING
FOLLOW US